December 2010 Newsletter
Dear Global Citizen and Friend, As 2010 comes to an end 4 Oneworld is reflecting on all that has been accomplished in Uganda, and looking forward to an exciting new year! Please spread the word and forward this on to your friends.

2010: Moving Forward

Five Years of Making a Difference

Grassroots Update

2010 Achievements
4 Oneworld has achieved great success this year.

$26K
has been raised for the Kibooba Village Primary School Project! Although the U.S. economy is struggling, people have been willing to open their hearts and pocketbooks to help educate impoverished children in Uganda. 4 Oneworld is grateful for the continued generosity of their loyal supporters.
4 Oneworld's circle of friends extends around the globe.
The Kalamazoo community and other friends in the U.S. contributed $13K in 2010; the Australian non-profit organization, Yoga Aid, by naming 4 Oneworld as one of the beneficiary charities, raised the remaining $13K.
This year in Kibooba 4 Oneworld has
• Funded 5 teachers' salaries
• Completed construction of the pit latrines
• Fenced the school property
• Implemented the Garden Project to fund the
student lunch program
• Provided desks and chairs for the students and teachers
Long term income generating projects continue in the research phase. 4 Oneworld expects a livestock initiative in early 2011.
THANK YOU TO ALL OUR LOYAL SUPPORTERS!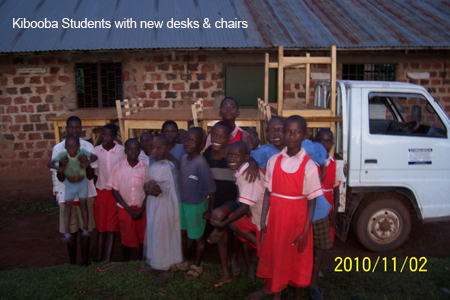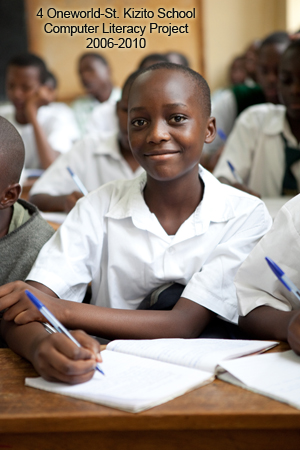 4 Oneworld Celebrates 5 Years of
Making a Difference
2010 marks the five year anniversary of 4 Oneworld. The organization started early in 2005 when co-founders, Adam Stubbs and Tara Stubbs, began funding the St. Kizito Secondary School computer lab. By the end of that year, 4 Oneworld was formed and had received federal 501 (c) 3 non-profit status.
4 Oneworld entered 2006 with the ambitious goal of providing five years of computer literacy to St. Kizito. The computer lab upgrade, the teacher and internet service were funded by 4 Oneworld from 2006 through 2010. 4 Oneworld is planning one final computer lab upgrade in early 2011. This will allow St. Kizito to continue as one of Uganada's top Information Technology programs. St. Kizito school board members understand the value of the program; they have included the computer teacher's salary in the 2011 budget and will make provisions for future computer lab expenses. 4 Oneworld has agreed to fund the internet service for another year since the internet connection did not start at St. Kizito until 2007.
The progress of the Kibooba Primary School Project, which began in 2009, is slow but steady. The goal is for the school to have the necessary tools and infrastructure to be self sufficient by 2014.

4 Oneworld President, Adam Stubbs commented, "Our humble, grassroots organization has had an incredible five years. With the help of our loyal donors we will continue our commitment to providing quality education to deserving children in Uganda."
In 2011 'Grassroots' will be a bi-monthly newsletter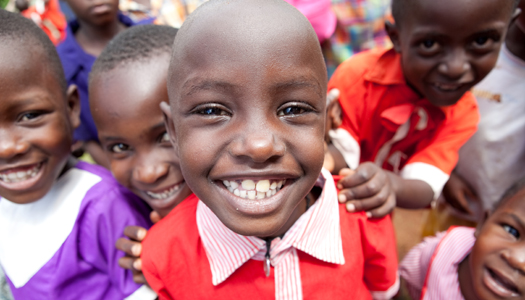 "Never doubt that a small group of thoughtful committed citizens can change the world.

Indeed, it's the only thing that ever has."