July 2010 Newsletter
Dear Global Citizen and Friend, It's been a busy July at 4 Oneworld! The month has been filled with excitement for the fundraiser, gratitude for friends and happiness for Kibooba. Check out the latest updates and please forward this on to your friends.
Live Music Fundraiser tickets on sale NOW!
Harvest time in Kibooba

Thank you, Jeffrey Neal of Terrapin
Support 4 Oneworld through www.yogaaid.com
FUNDRAISER TICKETS ON SALE NOW!
It's that time of year again! Tickets are now on sale for the 4 Oneworld Live Music Fundraiser. Bring your dancing shoes to let loose to local band, Funktion, and enjoy delicious food from Asiago's Bakery and Deli. 4 Oneworld is grateful to Funktion and Asiago's for generously donating their goods and services.

The event will take place at the Kalamazoo Institute of Arts on Thursday, September 30th from 5:30-9:00. There will be a fantastic silent auction featuring local and Ugandan artwork.

Tickets are $20 with proceeds supporting the 4 Oneworld Kibooba Primary School Project. All of us at 4 Oneworld would love to see you and your friends on 9/30!
Visit www.4oneworld.org to purchase your ticket TODAY!
Thank you to Christine Taylor for donating the beautiful graphic design and Robyn and Brian Richardson for donating the printing of tickets.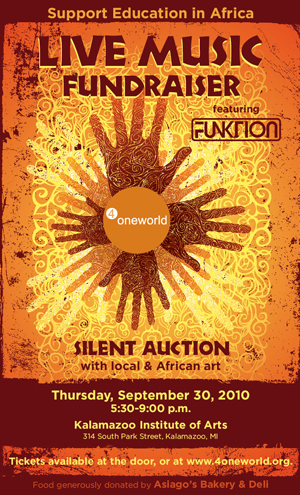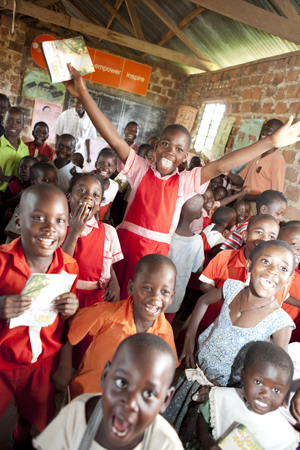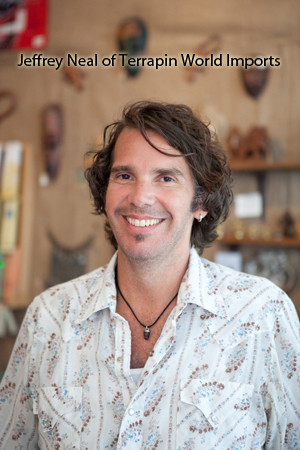 Kibooba Primary School Projects Update
Things are moving forward slowly, but surely. The Garden and Poultry Projects are progressing. The school recently began charging minimal school fees as another step towards building an infrastructure which will guarantee education in Kibooba.

The garden team expected to be harvesting by the end of July; there will be enough food to feed the children their daily meal for the upcoming semester. Dr. Denis Mpairwe advised planting beans as well as maize for the next season.
4 Oneworld is happy to report that the Garden Project first crop has been a success!

The Poultry Project has been closely monitored and evaluated by the Doctors of Agriculture from Makerere University. The chickens have yet to produce to their fullest potential due to poor feed formula and environmental factors. Poultry expert, Dr. Connie Kyarisiima advised separating layers from non-layers. The plan is to sell the non-layers as broilers and focus on getting the more eggs from the remaining chickens. Approximately half of the chickens will be sold within the next few weeks; this will decrease the number of chickens to approximately 200.

Joel Ibanda, Director of the Kibooba Primary School, recently implemented school fees in Kibooba. The $1 per student, per month fee will pay one teacher's salary. The fees system was implemented at the start of the second semester in late June and will continue throughout the year. This is one of the first steps towards sustainable education in Kibooba. Since the fees have been paid for June and July, 4 Oneworld will stop funding for the additional teacher in August. 4 Oneworld will work with Joel to ensure the continuation of the school fees system.
Thank you, Jeffrey Neal of Terrapin
4 Oneworld is giving thanks to Jeffrey Neal, proprietor of the local Kalamazoo import store, Terrapin. Jeffrey has volunteered to sell some of the Ugandan paper bead jewelry at Terrapin to promote 4 Oneworld. The proceeds will benefit Kibooba Primary School.
Check out the array of unique necklaces and bracelets at Terrapin, 237 South Kalamazoo Mall in downtown Kalamazoo. Thank you to Jeffrey for being a long term
4 Oneworld supporter!
Yoga Aid 2010
The Australian based non-profit, Yoga Aid will have their annual Yoga Aid Challenge in 14 cities throughout the USA on September 18 and 19th, 2010. The Challenge is for participants to complete 108 sun salutations to benefit their favorite non-profit organization. 4 Oneworld is proud to be chosen as one of the 2010 Yoga Aid charity recipients.
Kalamazoo yoga teacher, Kara Aubin will be one of twelve renowned teachers leading the Yoga Aid Chicago Challenge on September 19, 2010 at the Fine Arts Building, located at 410 South Michigan Avenue in Chicago. To participate, sign up at
www.yogaaid.com
"Never doubt that a small group of thoughtful committed citizens can change the world.

Indeed, it's the only thing that ever has."