September 2009 Newsletter


Dear Global Citizen and Friend, It's time for the annual fundraiser!
We hope to see each and every one of you attend and bring a friend.
Please help 4 Oneworld spread the word and forward this email to everyone!

Fundraiser Tickets on Sale NOW! Purchase yours @ www.4oneworld.org
Yoga Aid Success Continues

Local Band, Funktion Helps the Children of Kibooba

Unique Silent Auction Items
Purchase Your Live Music Fundraiser
Ticket Today!

LIVE MUSIC DONATED BY DROP 35
The musicians of Drop 35 have kindly donated their time to entertain you for the evening! Bring your dancin' shoes, because they have a diverse set list including songs from Motown, 80s, 90s, classic rock and some funk!
BELLYDANCING DONATED BY THE WEST MICHIGAN SCHOOL OF MIDDLE EASTERN DANCE!
West Michigan School of Middle Eastern Dance Director, Joette Sawall, is graciously donating her beautiful talent. Joette will perform traditional Middle Eastern Belly Dancing during one of the Drop 35 set breaks.
HORS D'OEUVRES DONATED BY ASIAGOS BAKERY & DELI
4 Oneworld is thankful to Asiago's Bakery and Deli, who will be providing a majority of the food for the event. Owner, Chris Khoury, is generously donating the delicious food, while manager Jacob Asperger is donating his time to prepare the dishes. Domino's will be donating pizza along with many other local restaurants also contributing.
Thank you Drop 35 (
www.drop35.net
).
Thank you West Michigan School of Middle Eastern Dance (
www.wmschoolofmed.com
).
Thank you Asiago's Bakery & Deli (
www.asiagobakerydeli.com
).
Thank you to the following businesses for their generosity: Canopium, Sarkozy's Bakery, Domino's Pizza, MaryAnn Kudary Floral Designs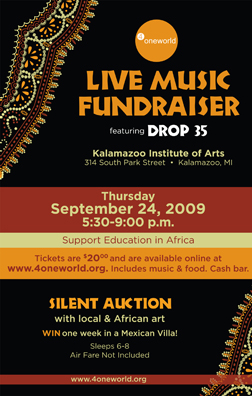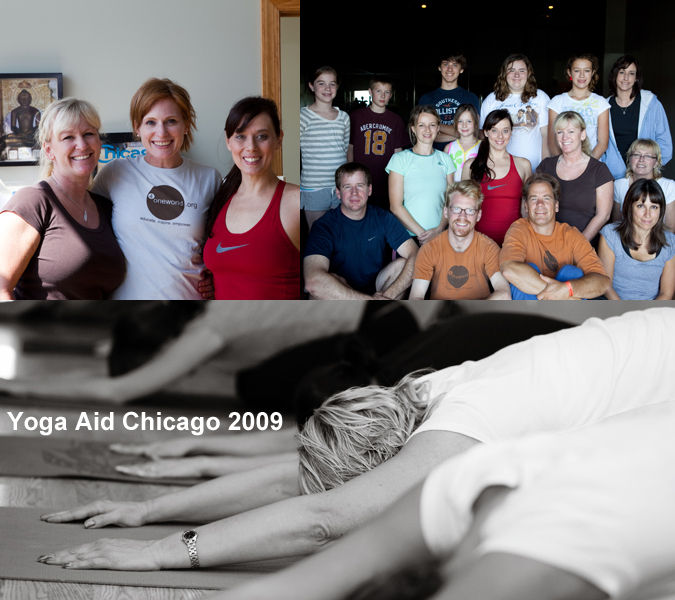 Yoga Aid Success Continues
4 Oneworld is a global charity, receiving donations from individuals all around the world. 4 Oneworld is fortunate to be a charity recipient for the Yoga Aid Foundation, which raises money for children in need through yoga. Yoga Aid Challenges are held at Yoga Festivals in Australia, the United Kingdom, the United States of America, Italy, India and Asia. The goal is for Yoga Aid participants to complete 108 sun salutations to benefit their choice of one non-profit organization that helps children in need.
The Yoga Aid Hong Kong was held in July and raised over $700 for 4 Oneworld. Since the beginning of 2009 nearly $3000 has been received through Yoga Aid India, Italy and Hong Kong! These donations will help fund the teachers' salaries, school furnishings and learning tools for the Kibooba village Primary School in Uganda.
On September 12 and 13th the Yoga Aid USA took place in cities throughout the country. The events raised nearly $20,000 for various charities! 4 Oneworld has yet to receive a confirmation of totals to benefit the children of Kibooba, but estimates are close to $2,000!
Thank you, Yoga Aid for your love and support! 4 Oneworld would not have such success without your help.






Local Band, Funktion Helps the Children of Kibooba
Kalamazoo funk band, Funktion has raised $110 in CD sales for 4 Oneworld! Funk Prelude is their latest CD and the August release
has benefited the 4 Oneworld Kibooba Primary School Project. Thank you Funktion for your kindness!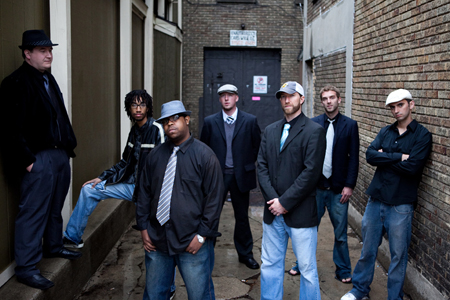 Unique Silent Auction Items
The 9/24 Fundraiser silent auction will have a wide range of art. Many different pieces of jewelry, paintings, photography, musical instruments, pottery and much, much more from local and Ugandan artists. A one-week stay in a Lake Michigan Cottage will definitely be a sought after item! Another auction item sure to create a bidding frenzy is a round of golf for four at the exclusive Moors Golf Club in Portage (http://www.moorsgolf.com/index.htm)! Purchase something for yourself, or start your holiday shopping early with a gift for someone special!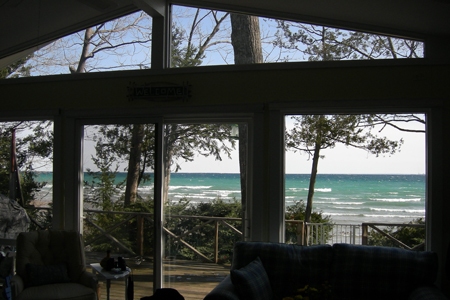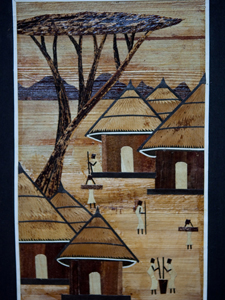 "Never doubt that a small group of thoughtful committed citizens can change the world.
Indeed, it's the only thing that ever has."